Weak demand and rising production in China, combined with efforts by South Korean suppliers to cut manufacturing charges in order to stimulate demand, is resulting in pronounced price reductions in the third quarter for popular sizes of liquid-crystal display television (LCD TV) panels.
Average pricing for 32- , 40- and 50-inch LCD TV open cell panels is set to decline in a range from 4.6 percent to 5.1 percent in September compared to June. Pricing for these panels for the previous period from March to June declined t a more moderate rate ranging from 2.0 percent to 3.4 percent.
The attached figure presents sequential pricing changes for these panel sizes. Open cell panels are panels that exclude the backlight unit.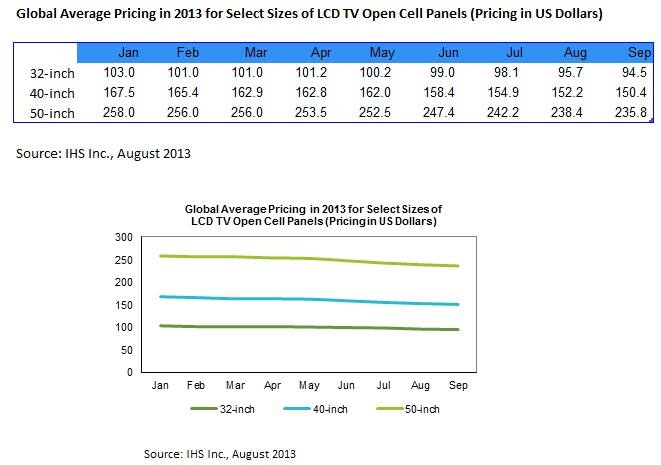 Surprisingly, weakness is coming at a time when pricing and demand normally should be robust as the holiday season approaches.
"A number of factors are conspiring to cause weak pricing for LCD TV panels," said Ricky Park, senior manager for large-area displays at IHS. "TV panel demand is tepid worldwide and particularly in China, where the end of a popular government incentive has led to a major sales slowdown. Meanwhile, Chinese panel manufacturers are adding new capacity—exacerbating the glut currently plaguing the industry. Finally, in an attempt to spur sales, some panel suppliers are offering attractive deals on certain panel sizes, causing pricing to fall."
The 32-inch conundrum
The Chinese government's move to discontinue its eco-subsidy program at the end of May had a broad impact on panel sales, but the biggest repercussion was in the 32-inch size. And because 32-inch is the most popular size in China, sales and pricing for this dimension plunged worldwide.
Meanwhile, production capacity for 32-inch panels still exceeds demand. The combination of weak demand and oversupply is expected to drive down the lowest price of 32-inch open cell panels to $90 in the first quarter of 2014, down from $96 during this year's first quarter.
South Korea acts on 40-inch panels
Samsung's aggressive stance on 40-inch panels also has impacted prices for similar-sized LCDs. As a result, prices for 39- and 42-inch panels are expected to decline by 5.2 percent and 4.2 percent, respectively, in the third quarter.
South Korean makers in general reportedly are planning to produce 48- and 49-inch panels in 2014, and both 46- and 47-inch panels will then be phased out. Anticipation of such developments caused a $4 to $5 price deduction in June for the 46- and 47-inch panel categories.
Taiwan cuts 50-inch prices
For their part, Taiwanese manufacturers cut prices for 50-inch panels to maintain a reasonable gap with 46- and 47-inch panels. And like the South Koreans, the Taiwanese are planning to offer panels in new 48- and 49-inch sizes. This is likely to further drive down pricing for 50-inch LCD TV panels.
Read More > IHS Display Materials & Systems
---