Earlier this month, HAI by Leviton announced that Yale Real Living has been added as a 'Connectivity Partner', enabling the integration of Yale's ZigBee and Z-Wave door locks into the HAI by Leviton home automation systems.
Such systems not only allow users to remotely control their door locks, but also enable the lock to be used as a trigger for other scenes or events in the home, such as the automation of lighting, temperature (and other HVAC) control and multimedia stations.
According to a recent study from IHS, "Smart Home Consumer Survey – US, Brazil, UK, Germany & China – 2013 Edition", door locks and entry gates were considered of median desirability in a connected home system, behind temperature controls, home monitoring devices (such as sensors or cameras), and lighting controls. However, adoption of these capabilities as well as home automation in general has so far been limited by a fragmented ecosystem. Will this move by HAI and Yale trigger greater levels of interoperability and drive adoption or is this is the only the first step in a very long journey for the home automation value chain?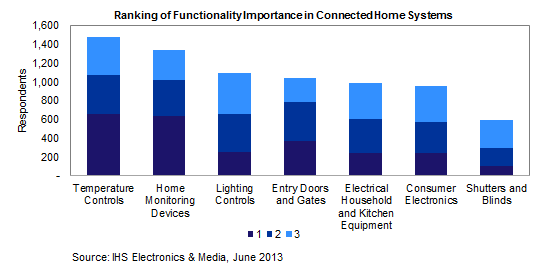 To Read More, Please Log In To Your Account.