The market for Blu-ray (BD) and DVD rental in the United Kingdom is expected to plunge by 22 percent in 2013, as half the country's Blockbuster video stores shut down in a restructuring initiated by the company's new management.
The U.K. market for physical-video rental will drop to £202 million in 2013, down £57 million, or 22 percent from £259 million in 2012, according to a newly updated forecast from IHS (NYSE: IHS) . While the market is generally on the decline, 2013 will bring the sharpest predicted annual decrease for the 11-year period from 2007 through 2017.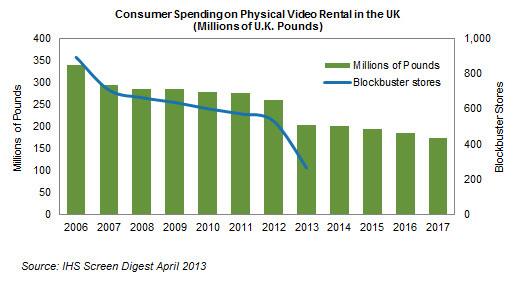 By the end of 2013, only 264 Blockbuster stores will be open in the country, down 50 percent from 530 in 2012. Blockbuster is the largest video rental chain in the country.
"The year 2013 is set to become a watershed for the U.K. video rental market as a result of the wholesale closure of Blockbuster UK stores," said Tony Gunnarsson, senior video analyst at IHS. "The massive downturn in the store-based video rental market represents a significant loss to the video market and will result in a major decline and radical transformation of the U.K. video market overall. From 2013 on, the U.K. physical-video rental business increasingly will be dominated by online rent-by-mail subscription services."
Both DVD and BD transactions are due to decrease across the store-based sector this year. DVD rentals will fall by a steep 53.2 percent to 15.4 million. BD is set to drop by an even larger 61.3 percent to 2.8 million respectively.
Blockbuster gets busted up
After filing for administration in January 2013, Blockbuster's administrators Deloitte announced two separate rounds of store closures, including some 224 sites. In February 2013, supermarket chain Morrisons purchased 49 of these former Blockbuster stores in its drive to increase its store presence in southeast England.
Out of the remaining Blockbuster stores, Gordon Brothers acquired a total of 264 locations, including a number of Blockbuster outlets earmarked for closure that will now remain open.
Pay-TV killed the video store
In 2012, rental stores were responsible for 41.3 percent of the video rental market based on consumer spending. In the latest forecast for 2013, however, the store-based sector is now projected to generate just 24.7 percent of the overall market. This tilts the market toward the online sector, which will see its share of market increase massively from 58.7 percent in 2012 to 75.3 percent this year.
At the same time, the lost rental business won't result in customers that used to rent at Blockbusters automatically signing up to become rent-by-mail customers with online providers, IHS believes. Rather, those customers are more likely to turn to a host of other video platforms, primarily pay-TV services.
Video rental market winds down
In the longer view, the U.K. rental market will return to a normal trend of decline after 2013, with spending on renting physical video shrinking at an annual rate of under 5 percent until 2017. By then, the retreat in spending is expected to be slightly more negative at 7 percent.
Read More >> UK Video Rental Forecasts Updated
---