The U.S. market for remote cardiac monitoring devices and services is set for more than a 25 percent increase from 2011 to 2016 as healthcare providers seek to cut expenses by gathering data on patients outside of the costly hospital environment.
The U.S. is by far the world's leading region for remote cardiac monitoring, with market revenue expected to rise to $867 million in 2016, up 27 percent from $686 million in 2011, according to a new report entitled "World Market for Diagnostic Cardiology Devices and Remote Cardiac Monitoring Services – 2013" from IHS (NYSE:IHS) InMedica.
The attached below presents the IHS InMedica forecast of U.S. market revenue for remote cardiac monitoring devices and services.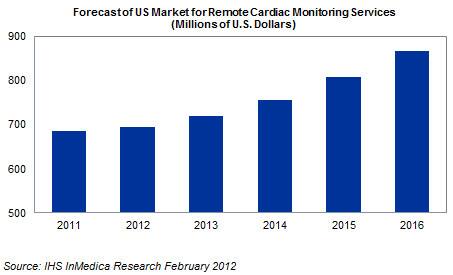 "Cardiovascular disease (CVD) continues to be the world's leading cause of death, and cardiac care is placing a major strain on healthcare providers," said Nicola Goatman, market analyst at IHS. "With limited physician resource to cover the ever-increasing number of cardiac patients, remote monitoring enables patients to be observed away from the hospital over longer periods of time, providing a much needed cost-saving initiative. Furthermore, remote detection's early discovery of cardiac disease is vital for reducing costly acute care later down the line."
Traditional Holter electrocardiogram (ECG) devices typically are used to monitor heart irregularities over a 24- or 48-hour period, limiting the number of events they can detect. In comparison, remote cardiac monitoring devices can be worn during a longer period, increasing the likelihood that an abnormality will be spotted.
The U.S. market is being fueled by Medicare reimbursements that incentivize American health service providers to use remote cardiac monitoring devices. Outside of the United States, the remote cardiac monitoring business is undeveloped, with only sporadic coverage.
Remote monitoring technology has improved dramatically over the past few years, with significant research and development allocated to provide better devices and services.
"In 2009 cardiac telemetry devices in the United States for the first time were recognized under their own medical billing codes for reimbursement by insurance companies and Medicare," Goatman observed. "It indicated that this type of technology was penetrating the market, providing an invaluable resource for monitoring cardiac arrhythmias outside of the hospital."
In the U.S. market, utilization of telemetry devices is starting to increase. With reimbursement only provided when devices are monitored 24/7, remote cardiac monitoring services is a lucrative and competitive market.
Information from the remote cardiac monitoring device is transferred to a receiving center, where the waveform is analyzed through algorithms. A report is then generated and uploaded to a secure website that can be viewed by the physician. In an environment where streamlining processes within the hospital are becoming increasingly important, remote cardiac monitoring devices and services clearly relieve pressure on the physician, allowing a greater number of patients to be monitored and diagnosed successfully.
Despite advances in technology to ease the burden on healthcare systems, tightening reimbursement has created a significant obstacle for the development of this market. Market leader Cardionet Inc., for instance, recently stated in its financials for 2011 and 2012 that approximately half of reimbursement was from government-owned Medicare. In 2009 Medicare announced the reduction of reimbursement for mobile cardiovascular technology from approximately $1,000 reimbursement rate to $750 per service—a decrease of 33 percent. The drop significantly affected the development of the market.
---