Citing security concerns, the U.S. House of Representatives Intelligence Committee on Monday warned American telecommunications operators not to do business with China's leading communications equipment makers. However, the U.S. telcos already were reticent to purchase equipment from the top Chinese firms—Huawei Technologies Co. Ltd. and ZTE Corp.—due to scrutiny from the American government. Because of this, the committee's announcement may not have a major negative impact on current sales levels of China's equipment providers. However, it could deal a further setback to Huawei's and ZTE's efforts to penetrate the American market in the future.
"The U.S. government has blocked numerous contracts and acquisition deals between American companies and Chinese equipment makers, usually in an indirect manner," said Lee Ratliff, principal analyst for broadband & digital home research at IHS. Because of this intense government scrutiny and the very high risk that a deal will ultimately be nixed after wasting months of time and millions of dollars, many U.S. companies are hesitant to work with Huawei or ZTE. The only difference now is the U.S. government has publicly issued its official findings regarding its investigation of the Chinese telecom equipment vendors."                                                  
Huawei and ZTE are unlikely to see their sales decline despite the U.S. government's action. However, the two companies are likely to see further delays in their bid to expand their business in the U.S. telecom market. Neither company has been able to crack the U.S. market for communications infrastructure equipment even after more than a decade of effort.
Huawei and ZTE's inability to penetrate the U.S. has not prevented them from rising to the top ranks in the global wireless communications infrastructure equipment market. Huawei during the first nine months of 2011 became the world's largest supplier, with revenue of $8.9 billion and market share of 28.7 percent, as presented in the table below. The company had been in third place for the entire year of 2010, behind Ericsson and Nokia Siemens Networks.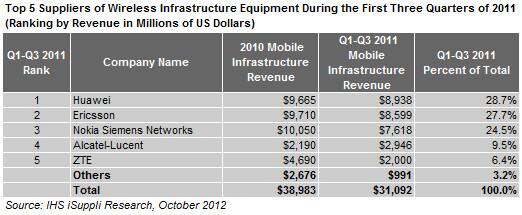 Huawei is regarded as a price and technology leader. It has won contracts with many European carriers for 4G deployment and network management and with many carriers in the emerging markets for 3G deployment.
ZTE ranked fifth during the first nine months of 2011, with revenue of $2.0 billion and market share of 6.4 percent.
"The concern among the U.S. lawmakers centers upon the transition to 4G wireless networks," said Jagdish Rebello, Ph.D., director for consumer & communications at IHS. "This transition will bring an exponential increase in the complexity of the networks. Because of this, many carriers are now contracting with networking OEMs to not only supply the equipment but also to partner with carriers to build the networks. This makes the networking equipment makers, such as Huawei and ZTE, a critical part of the infrastructure deployments."
While most of the U.S. government's efforts to stymie deals between U.S. companies and the Chinese equipment makers have taken place behind the scenes, there also has been public airing of concerns. A 2008 Pentagon report to Congress highlighted Huawei's links to the Chinese government. Huawei's efforts to buy its way into the U.S. market through acquisitions of 3COM and 2Wire have all been scuttled due to concerns of a U.S. government veto.
The U.S. isn't the only government taking action on this issue. In 2010, Huawei and ZTE reported that the Indian government started blocking purchase orders placed with them based on similar security concerns.
---