Spansion Inc. during the second quarter surpassed NOR flash revenue leader Micron Technology Inc. for the first time in three years, as the once-bankrupt company demonstrated strength in several memory-related efforts during the period, according to an IHS iSuppli Mobile & Embedded Memory market brief from information and analytics provider IHS.   
California-based Spansion for the second quarter came in ahead of guidance with $233 million in revenue, up from $219 million in the earlier quarter. It was the first time that Spansion headed industry revenue since the first quarter of 2009, and its return to the top sent former leader Micron, of Idaho, tumbling to the runner-up spot. Micron, in tandem with the operations of Numonyx—its 2010 acquisition—counted revenue estimated at $217 million, down from $221 million.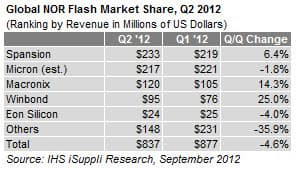 The other major players of the NOR flash market included Macronix International with $120 million, up from $105 million; Winbond Electronics Corp. with $95 million, up from $76 million; and Eon Silicon Solution with $24 million, down from $25 million. The three are headquartered in Taiwan. 
All told, NOR flash revenue in the second quarter amounted to $837 million. Prior to the release of the second-quarter numbers, the first-quarter NOR revenue had been the lowest since 2002 when IHS iSuppli started tracking NOR market share data.
Spansion's healthy numbers for the second quarter came from various sources, including strength in Japanese gaming as the company increased the share of its 65-nanometer process in overall NOR production to 23 percent.  
Outside of NOR, Spansion is also sampling single-level-cell (SLC) NAND using wafers from SK Hynix Semiconductor of South Korea, with Spansion projecting 2012 revenue for this area at $25 million, heavily weighted toward the fourth quarter. Spansion in the second quarter also introduced a human-machine interface acoustic co-processor developed with Nuance Communications, which claimed to deliver 50 percent faster voice recognition performance compared to a single-processor solution.
Spansion did have an area of weakness: Its wireless and transportation business were negative as a result of the company's shifting of facilities, which resulted in $8 million of deferred business during the second quarter.
For Micron, sales in the second quarter were more or less flat from the previous period even though margins improved, thanks to cost declines outstripping price erosion, helped by the ramping up of 200-millimeter NOR supply. And although its wireless business has been falling faster than the company had expected—hinted by the 40 percent year-on-year drop in NOR revenue—overall bit shipments were up, and the company was able to control internal inventories. 
Micron continues to focus on embedded engagements, where pricing is stronger and there is potential for design-in benefits for current customers using its other memory products. Phase-change memory (PCM), which has the potential to displace applications that use NOR flash, is increasingly a part of the company's wireless equation as well.
Among the Taiwanese companies, reassuring signs could be seen as they pursued a contrasting strategy that focuses on parallel NOR and the wireless business. Macronix, for instance, saw both shipments up 27 percent on the quarter and revenue rise by 14 percent despite a fall in gross margins, while Winbond reported sequential growth of 25 percent in its NOR business for a record quarter. And for Eon Silicon Solution, the manufacturer recently launched a 256-megabit serial peripheral interface (SPI) NOR chip as it broadened its reach toward embedded applications, notwithstanding a slight dip in second-quarter revenue.
Still, there may be signs of worry ahead. The arrival of new low-cost manufacturers is compounding an already existing surplus in supply, which exacerbates the problem of few demand drivers for the industry as a whole. Growth in new markets, such as in automotive and industrial applications, is also muted by shipment numbers that remain relatively low.
Moreover, the shift to SPI NOR from parallel NOR is favoring smaller, newer companies, as heavyweights Spansion and Micron struggle to balance legacy parallel solutions against the harsh realities of a low-cost market.
Finally, PCM is starting to hit feature phones at the expense of NOR chips, and future price drops will make PCM viable even in entry-level handsets. PCM shipments are starting to encroach on the wireless space, a contributing factor as NOR revenues this year are projected to fall 8 percent to $4 billion.
Read More >> PC Slowdown Taking its Toll on NOR