Consumers everywhere love the iPhone, with its strong sales in almost every region of the world, keeping Apple Inc. in first or second place in the global smartphone rankings. However, there is one country where Apple isn't No. 1 or No. 2—and doesn't rank even among the Top 5.
Are we talking about some obscure nation where the locals don't have access to essentials like iPhones?
No, we're talking about the world's most populous and economically vibrant country: China.
In China, Apple ranked in seventh place among smartphone brands during the first half of 2012, according to an IHS iSuppli China Research Topical Report from information and analysis provider IHS.
For Apple, this represents both a challenge and an opportunity. To succeed, Apple must offer products that have pricing and features that appeal to Chinese consumers and that fit in with the country's wireless business models. If Apple can do this, it stands to cash in on the country's smartphone market, which is experiencing booming growth.
Apple during the first six months of 2012 accounted for 5.2 million units—or 7.5 percent—of shipments of smartphones for sale in China, as presented in the table below. This was only about one-third of the share held by the market leader, Samsung, which claimed 20.8 percent of shipments.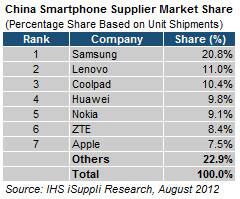 Apple came in behind such well-known players as No. 4 Huawei, No. 5 Nokia and No. 6 ZTE, all of whom rank among the world's top smartphone brands. However, Apple also trailed local brands that are largely unknown as smartphone sellers outside of China, including No. 2 Lenovo and No. 3 Coolpad.
So, what's preventing Apple from replicating its global success in China?
"Among all the international smartphone brands competing in China, Apple is the only one not offering a product that complies with the domestic TD-SCDMA air standard," noted Kevin Wang, director of China electronics research at IHS. "For Apple, this is a huge disadvantage, as TD-SCDMA represents the fastest-growing major air standard for smartphones in China, with shipments of compliant phones expected to rise by a factor of 10 from 2011 to 2016."
Meanwhile, Apple also is suffering from its lack of a low-end smartphone model that would appeal to price-conscious Chinese consumers.
"Apple doesn't have a real low-end version of the iPhone," said Francis Sideco, senior principal analyst,
consumer and communications for IHS. "The only way Apple can sell an iPhone for $99 or less is by using a subsidy from a wireless operator that reduces the price. However, in China, a large quantity of smartphones are sold directly from brands to consumers—and not through the operators. This prices Apple out of many smartphone sales, giving the advantage to Samsung and other brands that can sell low-end phones to consumers at $99 and still make a profit."
The China Opportunity
Overall, 160 million smartphones are expected to ship for the Chinese market by the end of this year, up 141 percent from 67 million in 2011. Of the anticipated total for 2012, approximately 28 million smartphone units by year-end will use TD-SCDMA, a unique standard to the Chinese market. By 2016, China smartphone shipments will rise to 333 million.
Apple can jump on this growth bandwagon by offering a phone that supports TD-SCDMA. The company then will need to negotiate with its primary carrier in the country, China Mobile, to hammer out details of a partnership.
If Qualcomm's chipset supports TD-SCDMA, Apple could offer a TD-SCDMA version of the iPhone 5 in 2013.
Apple also could offer a lower-cost version of the iPhone for the Chinese market—but this is considered to be unlikely.
"Developing and selling a lower-cost version of the iPhone would not be consistent with Apple's typical pricing and feature strategy, which is focused exclusively on the high end," Sideco said. "This doesn't change the fact that Apple will need to find a way to access a larger portion of the Chinese smartphone market."
Samsung's Strategy
While Apple may seek to change its strategy in China, chief smartphone rival Samsung is already cashing in on its successful approach in the country. Samsung during the first six months of 2012 shipped 14.4 million smartphones to China, or one-fifth of the 69.1 million smartphone units that circulated within the country during the period.
This helped Samsung to reclaim its leading worldwide position in the global smartphone market, six months after losing the top spot to Apple.
In the Chinese market, Samsung was far ahead of local Chinese manufacturers Lenovo and Coolpad, the only other smartphone suppliers along with Samsung to enjoy double-digit market share for the first half.
International Smarts
Together international brands accounted for 46 percent of the China smartphone space in the first half. The other global brands include Nokia from Finland, down to fifth place with 9.1 percent share, after being the top smartphone brand in China during the fourth quarter of 2011; California-based Apple, in seventh place with 7.5 percent share of market, thanks to the iPhone; Motorola of Illinois, in eighth place with 3.5 percent share; Sony of Japan, in 13th place with 1.2 percent share; and LG Electronics of South Korea, in 15th place with 0.7 percent share.
Also considered a foreign brand was HTC, whose headquarters are in Taiwan. HTC was in ninth place with 3.2 percent share.
Aside from Lenovo and Coolpad, the other big Chinese smartphone manufacturers were Huawei Technologies, in fourth place with 9.8 percent market share; ZTE, in sixth place with 8.4 percent share; and Goinee, in 10th place with 1.6 percent share. Local entities Hisense, K-Touch and Oppo were other Chinese brands that occupied the rungs between the 11th to 15th spots.
Read More > Chinese Manufacturers Take Smart Approach in Competitive Market
---