Taiwan Semiconductor Manufacturing Co. (TSMC) was the world's largest pure play foundry for mi- croelectromechanical systems (MEMS) devices last year, posting a phenomenal 201 percent increase in revenue as it gained share from rivals and capitalized on new income streams.
Revenue in 2011 for TSMC reached $53.0 million, up from $17.6 million in 2010, according to an IHS iSuppli MEMS Competitive Analysis report from information and analytics provider IHS. The company manufactures a broad range of  best-selling MEMS sensors and actuators, including 3-axis gyroscopes, accelerometers,  MEMS microphones,  pressure sensors, lab-on-chips and inkjet print heads.
TSMC led an aggressive pack of 12 pure play foundries that provided MEMS manufacturing. Those joining TSMC in enjoying MEMS foundry revenue growth last year included Silex Microsystems, Teledyne Dalsa, Innovative Micro Technology, X-Fab, Tronics, Jazz Semiconductor, Semefab and GlobalFoundries. Among the losers suffering revenue declines were Asia-Pacific Microsystems, Micralyne and tMt Touch Microsystems.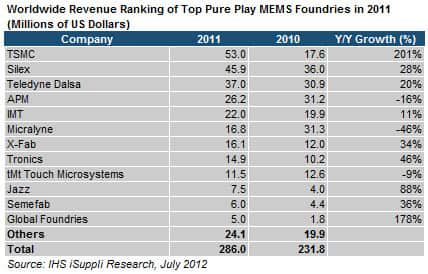 Total pure play MEMS foundry revenue last year from the 12 as well as a handful of other manufacturers amounted to $286.0 million, up a sol- id 23 percent  from $231.8  million in 2010.
A  major  factor  of   growth  for TSMC in MEMS was its client In- venSense, for which the Taiwanese foundry  made  3-axis gyroscopes  and 6-axis  inertial  measurement  units (IMU). Both MEMS devices are espe- cially important in mobile equipment like smartphones and tablets as well as in gaming. Epson had originally been the top supplier of  3-axis gyroscopes to InvenSense until it was sidelined by the March Japan earthquake last year, allowing TSMC to move in and seize Epson's market.
Another important growth driver for TSMC in MEMS last year was Analog Devices Inc. In particu- lar, TSMC benefited from ADI's design wins with MEMS microphones in the iPad 2 tablet from Apple Inc.
The MEMS business of TSMC remains but a droplet compared to the overall revenue generated by the foundry, the largest of its kind in the world. Nonetheless, TSMC remains extremely committed to the MEMS space, especially because the company already commands a large portion of the mainstream semi- conductor foundry business. As a result, growth prospects there are limited, and TSMC must continually look for faster-growing segments like MEMS in order to maintain expansion. TSMC first committed to MEMS manufacturing in 2008.
Silex

and

T

eledyne

Dalsa

also

P

ost

G

ood

G

r

o

wth

Silex

Microsystems

of

S

w

eden

w

as

the

N

o

.

2

MEMS

found

r

y

in 2011

after

TSM

C

.

R

e

v

e

n

ue

for

Silex

rea

c

hed

$45.9

million,

up 28

percent

from

$36.0

million,

with

optical

MEMS

swit

c

hes

for fiber

optic

tele-

com

applications

se

r

ving

as

the

main

g

r

o

wth

dr

i

v

e

r

.
The Swedish foundry has a broad customer base of more than 60 clients, and contracts for MEMS manufacturing include those for scientific applications, scanning mirrors for pico-projectors, lab-on-chips for diagnostics, gyroscopes for consumer devices, pressure monitors for blood-pressure monitoring, and MEMS drug-delivery systems for St. Jude Medical and Debiotech S.A.
Silex is also harvesting the fruit of an early bet on through-silicon via (TSV) technology—a high- performance technique used to create 3-D packages and 3-D integrated circuits. Silex was one of  the first MEMS foundries to heavily invest in the new process six years ago, and it has won many customers because of the prescient move. Approximately 50 percent of its active contracts today are related to the TSV process.
TeleDyne Dalsa of Thousand Oaks, Calif., the No. 3 MEMS foundry, recorded revenue in 2011 amounting to $37.0 million, up 20 percent from $30.9 million in 2010. Optical MEMS was also the main revenue driver, and the company last year started delivering wave selective switch-reconfigurable optical add/drop multiplexers (WSS ROADM) to market leader JDSU.
Micralyne of Canada had been the previous MEMS foundry manufacturer to JDSU of WSS ROADM devices—products that add, block, pass or redirect modulated infrared and visible light beams in a fiber optic network. The MEMS contract accounted for half of Micralyne revenue, and the Canadian foundry's loss explains its steep 2011 revenue decline of 46 percent to $16.8 million, down from $31.3 million. The loss plunged Micralyne to sixth place from a No. 2 ranking in 2010.
Dalsa last year also enjoyed good business in pressure sensors for both automotive and medical ap- plications, and  the foundry has a rapidly expanding market for lab-on-chips. The company will benefit in the next few years from a collaboration with various partners—including the Université de Sherbrooke of Montreal, the governments of Canada as well as Quebec, and industry partner IBM Canada—on a micro- electronics innovation center. The well-funded center will help Dalsa expand expertise on 200-millilmeter wafers and TSV processes.
Other Winners and Losers Duke it Out
Aside from the Top 3, revenue gainers among MEMS foundries in 2011 included No. 5 Innovative Micro Technology (IMT) of Santa Barbara, Calif., No. 7 X-Fab of Germany; No. 8 Tronics from France; No. 10 Jazz Semiconductor of Newport Beach, Calif., No. 11 Semefab from the United Kingdom; and No. 12 GlobalFoundries of Milpitas, Calif.
Growth for these companies stayed in the robust double digits, ranging from 11 percent up to the market's second-best revenue expansion of 178 percent for GlobalFoundries—next only to that of mar- ket leader TSMC.
Among the losers in the space last year were No. 4 Asia-Pacific Microsystems of Taiwan; No. 6 Mi- cralyne, mentioned elsewhere in the story; and No. 9 tMt Touch Microsystems, also of Taiwan.
Gyroscopes were the top source of MEMS revenue in 2011 for MEMS pure play foundries, followed by accelerometers and then pressure sensors. The top MEMS applications last year were for the joint consumer and mobile space, ahead of both industrial applications and medical applications.
Read More > MEMS Fabless Model is Gaining Traction