China's domestic PC shipments in 2012 are set to rise at three times the rate of the global market, driven by strong economic growth and insatiable demand from the commercial sector, according to an IHS iSuppli China Research report from information and analytics provider IHS (NYSE: IHS).
PC shipments for consumption in China for 2012 are projected to reach 83.6 million units, up 13.1 percent from 73.9 million units last year. In comparison, global shipments are set to increase by only 4.4 percent this year.
Domestic shipments of both desktop and notebook PCs to the Chinese market have been growing at robust double-digit rates for several years, and the healthy pace of expansion is set to continue for at least two more years before the market moderates slightly to a 9 percent increase in 2015.
Shipments will amount to some 129.4 million units at the end of 2016, as shown in the figure below, equivalent to a five-year compound annual growth rate of 12 percent.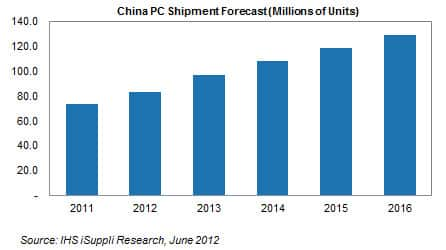 "A result of the country's fast-paced economic expansion, China's PC shipment growth is exceptional, especially when compared to the tepid growth anticipated this year in PC shipments for the rest of the world," said Elaine Zhi, analyst for China electronics research at IHS. "Shipments to commercial enterprises are leading the consumer segment in both the desktop and notebook segments by several million units in 2012." 
Mainline PC Shipments for the Mainland
China's domestic PC shipments are also impressive when compared to global or other regional sums. The
country's domestic PC shipments in 2012 are expected to be equivalent to 23 percent of the world's total of 368 million units, and they account for a staggering 63 percent of all PCs shipped in the Asia-Pacific region.
Notebook PCs will lead China PC shipments this year, amounting to 42.5 million units, up from 35.8 million units in 2011. In comparison, desktop PCs will come in slightly lower at 41.1 million units, up from 38.1 million units.
Lenovo in the Lead
The biggest PC maker in the country is Beijing-based Lenovo, projected to ship 29.9 million units domestically this year, equivalent to 36 percent of China's domestic PC market. Following Lenovo in the Top 5 are Acer with 11 percent market share; Dell with 8 percent; Hewlett-Packard with 6 percent; and Asus, also with about 6 percent. The next three brands are all local entities but less well-known in the global PC markets: Tongfang, Haier and Hasee.
China's export PC sector is even bigger than its domestic counterpart. Full projections for this year are not yet available, but Chinese PC makers last year exported a total of 234.1 million notebooks and 37.2 million desktops. Quanta Computer, Hon Hai and Compal Electronics were the country's Top 3 notebook PC exporters in 2011 with a combined market share of 64 percent; while Foxconn, Quanta and Pegatron were the Top 3 desktop PC exporters during the same time with a collective 53 percent share.
Hon Hai and Foxconn are the same entities operating under different trade names, and the company as a whole is also among the world's largest providers of outsourced manufacturing services, with clients including Apple, Hewlett-Packard, Sony and Dell.
Ultra-attractive Prospects for Ultrabooks
Chinese manufacturers are especially keen about the ultrabook this year, with major domestic PC makers devoting significant efforts to promote the slim new notebooks. Ultrabooks will make up an estimated 15 to 20 percent of total notebook shipments in China this year, although their high prices will mean that they won't totally replace notebooks in the country even for the foreseeable future.
While the traditional manufacturing base for PCs in China has been around Shanghai and Kunshan on the eastern seaboard, factories have sprung up in recent years in Chongqing and Chengdu, cities far to the west that are located much further inland. The migration of manufacturing away from China's coastal areas is due to various factors, including rising labor wages, incentives from the central government and lower costs in general for companies to run operations in western China.
Read More > China PC Industry has Double-Digit Growth;More Positive Numbers Expected
---