With their shipments projected to surge this year and beyond, all-in-one (AiO) PCs will help prop an ailing market for overall desktop PC systems, according to the IHS iSuppli Compute Platforms Service at information and analytics provider IHS (NYSE: IHS).
Shipments of AiO PCs are forecast to reach 16.4 million units this year, up a robust 20 percent from 13.7 million units last year. In comparison, worldwide growth of traditional desktop PC shipments in 2012 will amount to a dismal 0.2 percent—rising from approximately 132.0 million units to 132.3 million units.
The healthy pace of growth for AiO PCs will continue in the years to come. By 2016, shipments will hit an estimated 24.8 million units, equivalent to a five-year compound annual growth rate of nearly 13 percent, as shown in the figure below. The fast-growing AiO space may, in fact, save the overall desktop segment—already battered by competing consumer devices, like smartphones, media tablets and even mobile PCs such as laptops and Ultrabooks—from going into further decline, IHS iSuppli believes.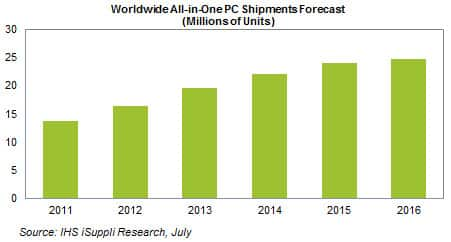 Unlike traditional desktop PCs that comprise a separate monitor, system base unit and power cable, all-in-one PCs utilize a different form factor—one that integrates the display and base unit into a common chassis, with the power cable permanently attached to the entire mechanism. AiO examples on the market today include the iMac range of products from Apple Inc., as well as the TouchSmart series of PCs from Hewlett-Packard Co.
"The AiO PC is especially appealing to consumers that have been waiting for a desktop-monitor combo that not only combines the strengths of a traditional desktop system but also offers a few more extras typical of the new versatile devices, such as a flexible form factor, a large screen size and touchscreen optical technology," said Craig Stice, senior principal analyst for compute platforms at IHS.
For instance, AiO PCs no longer need to be bound to a computer desk but can fit into a variety of environments—including on a wall, from where the devices can be hung—bringing about new user experiences in the process. Some models also offer a TV tuner option that allows the PC to function as both a personal computer and a television.
Often AiO PCs also come with larger screen sizes, with 22-inch screens being the average. Many larger systems offer high-definition (HD) specifications, including HDMI inputs and outputs, options for 3-D, and high-end sound systems.
Most AiO systems also employ optical technology with sensors within raised bezel edges that will track touch in a typically two-touch or point-and-touch screen. A more tablet-like experience with multitouch or swipe capabilities could likewise be possible when Microsoft launches its new Windows 8 operating system later this year.
Pricing for AiO systems is now comparable to standard desktops—anywhere from less than $500 for a modestly packed system with a 20-inch screen, up to nearly $2,000 for a fully loaded high-end system.
Still, AIO systems have their drawbacks. The PCs cannot be customized with additional or upgraded hardware as easily because of the more enclosed environment and space constraints within the system, and the all-in-one form factor that makes them unique also makes the machines hard to repair. As a result, their product life cycle is shorter than that of the traditional desktop PC, and the total cost of ownership also comes out higher.
Apple was No. 1 last year in AiO shipments, with 28 percent share of the market, followed by Lenovo, Dell, HP and Sony. The largest original development manufacturer for Aio PCs was Quanta Computer of Taiwan, whose clients include Apple, Lenovo and HP. Pegatron and Wistron, also from Taiwan, were other important manufacturers of the machines.
Read More > All-in-One PC Systems May Save the Desktop Segment
---