The NAND flash memory market is expected to achieve healthy 8 percent growth this year because of major sales drivers, including solid-state-drive (SSD) equipped ultrabooks, according to an

IHS iSuppli Data Flash Market Tracker report from

information and analytics provider IHS (NYSE: IHS).
Global NAND flash revenue this year is projected to reach $22.9 billion, up from $21.2 billion in 2011. And with NAND flash consumption increasing in the three principal markets for smartphones, tablets and SSDs in ultrabooks, NAND revenue will climb continually during the next few years, hitting approximately $30.9 billion by 2016, as shown in the figure below.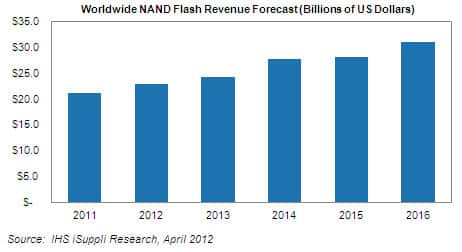 The NAND industry finished 2011 somewhat below industry expectations, mainly because consumers did not embrace tablets as enthusiastically during the fourth quarter as initially expected. While the iPad from Apple Inc. is a major achievement, the same level of success has not been shared by other manufacturers' tablets.
"Given the lukewarm performance of the tablet segment last year, there was some trepidation coming into 2012 for the NAND industry," said Michael Yang, senior principal analyst for memory & storage at IHS. "But even though most NAND manufacturers had planned to be on the fast track in 2012 to increase production at newly built fabs, each supplier has since reduced capital spending compared to its original plans, electing to moderate supply expansions to allow demand to catch up. Such a strategy will avoid a precipitous price decline that the industry won't be able to withstand, leading to more optimism for a stronger 2012."
Ultra Attractive Opportunity in Ultrabooks
The shining new hope for the NAND industry this year could well be the ultrabook. NAND flash suppliers have been pushing for the adoption of SSDs in ultrabooks.
With their light weight, long battery life and fast boot-up times, ultrabooks will appeal to corporations and consumers alike. This will push total NAND consumption in the PC segment to more than 15 percent of total NAND flash supply. SSDs will account for some 3.3 billion gigabytes of NAND flash consumption this year, up from 1.7 billion gigabytes in 2011.
Another area of growth that the NAND industry can rely on this year is the cell phone market, particularly in the smartphone segment. Smartphone shipments this year will hit 626 million units, with an average NAND flash content of 9.0 gigabytes per unit. By 2016, NAND memory content in smartphones will amount to 18.9 gigabytes, representing 16 percent of total NAND bit shipments. Overall NAND flash consumption in 2012 for smartphones is forecast to reach 5.7 billion gigabytes, up from 3.1 billion gigabytes in 2011.
While smartphone demand has exceeded NAND industry expectations, tablets have generally underperformed.
The greatest success besides the iPad has been achieved by lower-end tablets such as the Kindle Fire from Amazon. However, the Fire comes with only 8 gigabytes of NAND flash, compared to the iPad's maximum 64 gigabytes of storage. This is resulting in overall lower consumption of NAND flash than if competitive tablets had similar NAND densities to the iPad.
Even so, tablets will be responsible for 12 percent of NAND flash bit shipments this year, with NAND flash consumption in tablets reaching 3.6 billion gigabytes, up from 1.6 gigabytes in 2011.
On its own, Apple will consume about 25 percent of the overall NAND supply in 2012, equivalent to some 8 billion gigabytes. The iPad will be responsible for 74 percent of NAND consumption in the tablet segment this year, accounting for 2.8 billion gigabytes out of a total 3.8 billion gigabytes in tablets.
The iPhone, with an average density that is more than two times that of other smartphones, will consume more than 3.2 billion gigabytes in 2012.
Other Apple products that will use NAND flash in significant quantities are the Mac Book Air and iPod Touch.
Read More > NAND Looks to UltraBooks to Drive Growth in 2012 
---