With a strong boost from Ultrabooks, global shipments this year of solid state drives (SSD) are expected to surge by 165 percent compared to 2011, according to an IHS iSuppli Storage Tracker report from information and analysis provider IHS.
SSD shipments in 2012 are expected to reach 45.9 million units, up from 17.3 million units last year. SSD shipments are forecast to more than double again in 2013, and will continue growing in the next few years at steady double-digit expansion rates. By 2016, SSD shipments will exceed 201.4 million units, equivalent to a five-year compound annual growth rate of 63 percent. The SSD shipments cover traditional solid state drives, as well as cache SSDs that along with a hard disk drive (HDD) component make up a composite storage solution such as that found in Intel Corp's Ultrabooks; the SSD shipments do not include hybrid HDDs in which the SSD component lies outside the hard drive, as can be found in a product like the Momentus XT of Seagate Technology.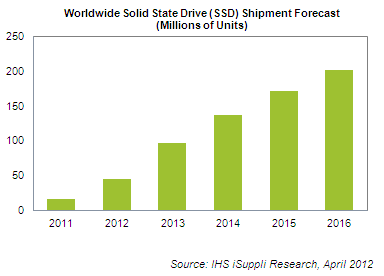 SSDs can serve as alternatives for HDDs in personal computers, storing data by using NAND flash memory semiconductors rather than by employing traditional rotating media.
First made popular by the MacBook Air from Apple Inc., SSDs have gotten their biggest push so far from Ultrabooks, which Intel hopes will become widely accessible to mainstream consumers. Performance, responsiveness and affordability in a thin form factor are critical storage attributes in such an initiative, IHS iSuppli believes.
The fourth quarter in 2011 was especially memorable for the SSD industry on the back of shipments numbering 6.2 million units and revenue totaling $1.7 billion. The Thailand floods spurred a shortage of HDD shipments, prompting PC makers to seek alternatives late in the year. This led to a surge of SSD shipments for corporate laptops, although excess optimism led to some high inventories in the first quarter of 2012.
The close of 2011 also saw many prominent manufacturers hit record levels in SSD-related revenues. Intel, Samsung Electronics Co. Ltd. and Toshiba Corp. all leveraged their captive NAND supply to capture half of the SSD market, with their cumulative revenue jumping almost 150 percent on the year. SSD revenues at least tripled for several companies, including Toshiba, OCZ Technology Group Inc., Fusionio, Micron Technology Inc., SanDisk Corp., Texas Memory Systems Inc. and Hynix Semiconductor Inc.
For the HDD segment, a recovery is finally underway after a 4 percent contraction in shipments last year because of the Thailand floods. HDD shipments in 2012 are projected to reach 666.0 million units, up 6 percent from 626.4 million units last year. The use of hard disk drives along with a cache SSD component in hybrid storage-based Ultrabooks will also help the HDD industry, potentially offsetting losses being incurred by the HDD market to flash-based tablets and pure SSD-based notebooks.
The third leg of the storage industry, the optical disk drive (ODD) segment, will see flat shipments this year at 299.8 million units, compared to 297.7 million units in 2011. Some laptops will not have optical disk drives starting this year as manufacturers abandon the storage medium due to the popularity of streaming media among consumers. ODDs will also lose out to many thin-type PCs including Ultrabooks, with manufacturers choosing to save space and bill of materials (BOM) costs. By next year, solid state drives will overtake ODDs to finish second behind the hard disk drive segment in overall revenue, with ODDs dropping permanently to third place.
Learn More > Storage Industry Sees New Growth Vehicle in Ultrabooks