Worldwide shipments of pure-play ebook readers are set to more than double in 2011, and a new color display technology is currently making the rounds as an alternative to traditional monochrome devices, according to an IHS iSuppli Small and Medium Displays Market Tracker report from information and analysis provider IHS.
Shipments this year of pure-play ebook readers will reach 27.1 million units, up a resounding 108 percent from 13.0 million in 2010. The strong growth this year comes from a relentless push by ebook sellers to promote the low-power, monochrome devices in the face of stiff competition from tablets like the iPad from Apple Inc. But while shipments will continue to increase during the next few years, the expansion of the pure ebook market will slow drastically. Growth next year, for instance, will reduce by two-thirds to 37 percent based on projected shipments of 37.1 million units.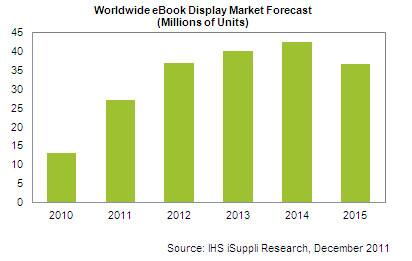 Ebook readers made great inroads among consumers following their introduction a few years ago, exemplified by the success of the Amazon Kindle and the Barnes & Noble Nook. But their monochrome displays are being challenged today by the vibrant color displays of tablet devices like the iPad. Tablets allow videos, games and various apps to be played, in contrast to the pure readership function of ebook readers for perusing books and periodicals.
Future growth in the ebook reader space likely will come from vertical markets such as education, where a single use case may be preferred over the multiple features and functionalities supported by a converged device like a tablet. The challenge here is that the ereader devices for possible use in these markets have not yet been defined or designed. Nonetheless, pure-play ebook readers have a number of built-in advantages, including light weight and a battery life lasting weeks on a single charge.
Qualcomm Hopes Mirasol Color Display will Prove Enticing
While ebook readers long have employed a type of electronic paper known as Electrophoretic Display (EPD), a color technology known as Mirasol display has been introduced by San Diego-based Qualcomm Inc., in the form of a non-English ereader called Kyobo, developed in tandem with the biggest bookseller of South Korea.
The Kyobo ereader using Mirasol display features a 5.6-inch, 1024 by 768-pixel display, with a pixel density of 225 ppi. Mirasol matches typical EPD characteristics, such as wide viewing angles and readability in sunlight. But what sets the Qualcomm technology apart is its capability to exhibit full color and deliver fast response speeds, without compromising the low-power benefits provided by traditional monochrome ereaders. A charge on the Kyobo ereader can last for weeks, based, for instance, on 30 minutes of reading per day on the device, with the front light on for 50 percent and the wireless function switched off.
The timing for Mirasol comes at a point when ereaders are under siege from tablets and already saturating the space. Also, a Mirasol device like the Kyobo is not cheap, coming at a price tag of 349,000 Korean won (equivalent to $319)—even more expensive than a tablet device such as the Amazon Kindle Fire or the Barnes & Noble Nook Color, and nearly four times as much as the monochome Amazon Kindle ereader at $79. What will help Mirasol gain share will be cost competitiveness, deployment in large-volume products and an aggressive strategy to help create devices for attractive markets.
The road ahead, however, is uncertain. Even though Miraosl has the potential to become a game-changer in the ebook market, the next few years could prove challenging, IHS believes, given the current limited manufacturing capacity and associated higher costs for producing the color display.
Learn More > Tablet PCs and Smartphones Buoy Demand in the Small/Medium Displays Market