In a spate of construction and investment activity, China is pinning its hopes on becoming a major player in the market for active-matrix organic light-emitting diode (AMOLED) displays, an area that will expand during the next few years as the panels gain increasing use in mobile handsets and smartphones, according to an IHS iSuppli OLED Market Brief report from information and analysis provider IHS.
Worldwide AMOLED shipments are anticipated to reach 73.7 million units at the end of 2011, up a remarkable 55 percent from 47.4 million units last year. Growth will be even more robust next year at 110 percent, to be followed then by double-digit expansion until 2015. By 2015, AMO­LED shipments will amount to some 297.3 million units, up more than sixfold from their 2010 levels.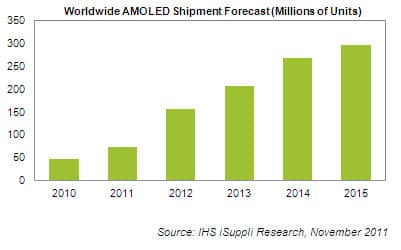 In turning its attention to AMOLED, China plans to be a significant supplier and gain greater influ­ence in the overall mobile display industry. And with its potential for extensive manufacturing capacity and production, along with assurances of capital investment from both Beijing and at local government levels, China could well become an important player in the AMOLED space.
AMOLED vs. LCD: the View from Both Sides
AMOLED is a technology subset of the broader visual display type known as organic light-emitting diode (OLED); OLED and LCD are the two main rival factions for handset displays.
Compared to LCD, AMOLED offers higher contrast ratios, wide viewing angles and faster response times, providing users with a greatly enhanced viewing experience. AMOLED displays also consume less power in many cases, making them especially suitable for portable electronics in which the conservation of battery life is critical.
LCD technologies today account for about 95 percent market share of handset displays, compared to 4 percent for AMOLED. By 2015, however, share of LCD technologies will decline to 88 percent, while AMOLED will see its portion increase to 10 percent during the same period.
AMOLED is employed today in handsets from Samsung, Nokia, HTC and Motorola, but its use at present is more or less restricted to high-end smartphones. Meanwhile, the technology's chief rival is LTPS LCD and an advanced LCD implementation known as in-plane switching (IPS)—famously put in place by its most prominent propagator, the iPhone from Apple Inc.
The Chinese Factor vs. the Competition
With their eyes on the prize, Chinese companies are spending substantial amounts of capital on the construction of fabs for manufacturing AMOLED panels, along with research and development on the technology.
The largest investment belongs to BOE Technology Group Ltd. of Beijing at $3.4 billion, but con­siderable sums also are being injected into two sites belonging to the giant Irico Electronics Group Co., headquartered in Shaanxi province; as well as into the Shanghai fab of Tianma Microelectronics.
The Tianma and the two Irico fabs are expected to begin mass production next year, while a third Irico location is expected to commence production in 2014. Another Chinese company, Visionix, likewise has a fab with planned mass production to begin in 2013, as shown by IHS iSuppli data.
However, a number of factors—including the harsh economic environment, continuing uncertain­ties associated with achieving cost-efficient AMOLED production and the market's misgivings about the technical quality of displays manufactured in China—all could  conspire to delay or disrupt the timeline for fab investment and subsequent mass volume production in the country.
China's entry into AMOLED could potentially put pressure on other players now on the market, including the dominant South Korea companies of Samsung Mobile Display and LG Display, as well as eager Taiwanese contenders like AU Optronics, RiTDisplay and ChiMei Innolux.
No shortage of challenges will face the Chinese vendors. In particular, domestic fi rms will fi nd it hard to surpass Samsung, which holds a near-insurmountable market share of 92 percent. Moreover, the crystallization process for AMOLED produces low yields when compared to those for conventional LCDs, hindering the capacity of an AMOLED fab to effectively meet market demand and price. A re­lated factor, the evaporation process of OLED, is an expensive element of AMOLED production that suppliers must incur.
Lastly, manufacturers must be ready to devote a considerable amount of time when undertaking the AMOLED business in order to develop and refine processes to improve manufacturing yields and achieve cost efficiencies. The lengthy time involved could mean a delay in the recouping of fi nancial in­vestments. 
How China addresses these various issues will determine its ability to be competitive and to operate profitably in the AMOLED industry.
Read More > China Ponders AMOLED Production