Samsung Electronics Co. Ltd. in the second quarter stormed back to regain lost footing in the dynamic random access memory (DRAM) market, allowing the company to attain its highest market share ever in the space, according to an IHS iSuppli DRAM Dynamics brief from information and analysis provider IHS.
After suffering a setback in the first quarter, Samsung rebounded in the second to take 41.6 percent of the worldwide DRAM market, up from 39.7 percent. DRAM revenue for the South Korean electron­ics giant amounted to $3.35 billion, up 2.7 percent from $3.26 billion. Fellow South Korean and Samsung main rival Hynix Semiconductor Inc. also performed strongly during the period to see its market share expand to 23.4 percent—the second-highest in the space, and also an all-time high for the company.
In third place was Elpida Memory Inc. of Japan with 14.6 percent share, fol­lowed by U.S.-based Micron Technology Inc. with 10.6 percent. Rounding out the Top 5 with 4.7 percent share was Nanya Technology Corp., the highest-placed Tai­wanese player in a group that also included Winbond Electronics Corp. and ProMOS Technologies Inc.
Another Taiwanese entity, Powerchip Technology Corp., exited the DRAM busi­ness in the second quarter. Powerchip's DRAM production was sent to Elpida, which then sold the product as Elpida­branded memory.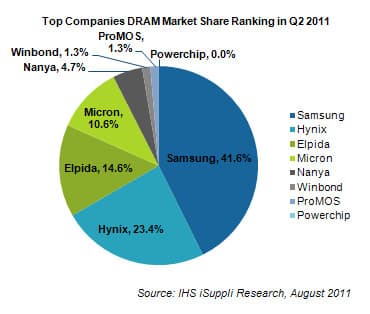 South Korea Continues DRAM Domination From the Past Decade
Between Samsung and Hynix, the two South Korean entities managed to capture a remarkable 65 percent of DRAM industry revenues—the highest concentration of market share in any one country since Japan dominated with 75 percent in the late 1980s. Samsung has led the DRAM market for the past decade.
Next to South Korea during the second quarter was Japan, with 15 percent market share, up 1 per­cent; followed by the United States at 11 percent, down 1 percentage point; and Taiwan at 9 percent, down 2 percentage points. 
While South Korea's dominance bodes well for Samsung and Hynix, such geographic concentration could give customers cause for concern, IHS believes. A localized disturbance in South Korea, similar in scope to the Japan quake in March, for instance, would cripple the global electronics supply chain, espe­cially as DRAM is used across a huge swath of consumer electronic items including PCs, mobile phones, tablets and gaming devices.
Samsung and Hynix are expected to show continued strength through the end of 2011, while the Taiwanese will need to contend with questions on whether to throttle output amid a miserable pricing environment.
Micron and Elpida, which both have significant production in Taiwan, are still behind their South Korean rivals from a manufacturing perspective. Not only are they likely to feel margin pressures for the rest of the second half this year, both also will find it difficult to grow market share much beyond their current levels.
Read More > Samsung Charges Back in Q2, South Korea Continues Domination of DRAM