The news that Verizon Communications Inc. would halt further expansion in North America of its FiOS system—a Fiber To The Home (FTTH) network—left many surprised, as the apparent success of the system should have been enough to continue deployments beyond the company's initial plans, according to iSuppli Corp. 
While Verizon will build out existing franchise agreements, with its network passing 15.6 million homes at the end of the first quarter, the company has discontinued in-progress negotiations for new franchises. And although Verizon originally intended to pass 18 million homes in 2010, its recent comments have indicated that the goal will not be met until at least 2012.
On the surface this might seem like a crushing blow to FTTH in North America, as Verizon is currently the only Tier 1 telco deploying equipment for this purpose. However, iSuppli's models indicate that there will be little impact on the subscriber growth rate for several years given the large backlog of homes that have been passed but not made open for sale, or ready for service to be initiated. Assuming no further changes occur in FiOS deployment, iSuppli expects this backlog to be reduced to near zero by the end of 2013—at which point subscriber growth will begin to flatten, approaching 7 million subscribers by 2016. Penetration then will level off at about 38 percent to 40 percent by the end of the decade as Verizon mines the FiOS footprint even as it is expected to continue facing stiff competition from wideband offerings of cable operators.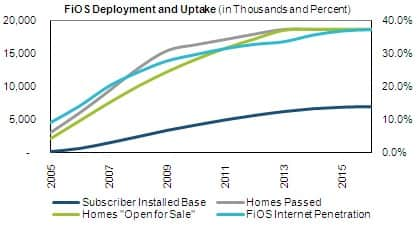 Reduced Priority
The move by Verizon echoes actions taken by AT&T Inc. to slow down deployment of its Fiber To The Node (FTTN) U-verse network. Both carriers cited the desire to increase penetration of their existing network as reasons to slow down or halt deployment.
For Verizon, the company cut back on the marketing of the service, decreased incentives and cut advertising starting in mid-2009, stating it was no longer willing to sacrifice profitability for the sake of growth in this area.
While the halting of FTTH expansion may represent a simple pause of the technology deployment on the part of the company, with Verizon planning to return to expansion at a later time when revenue catches up with investment, it is possible that the development could portend something more.
Connecting the Cable
The cable industry continues to rapidly deploy its DOCSIS 3.0 infrastructure for as low as $20 per home passed, according to many sources. Compared to the $600 to $700 per home passed for Verizon's FiOS deployment and $350 per home passed for AT&T's U-verse, multisystem operators (MSO) enjoy a competitive advantage very difficult for telcos to overcome.
Verizon's plan to halt expansion of FiOS may be an indication that the company believes the broadband war could eventually be won. The triumph, however, might end up being too costly to be viewed as a success—a pyrrhic victory at best. Verizon—and AT&T for that matter—clearly believes that capex dollars are put to better use in wireless networks.
And although FTTH is clearly the more future-ready technology, its rival DOCSIS 3.0 is capable of 50Mbit/ Sec. to 100MBit/Sec. speeds and potentially 1Gbyte/Sec.—more than enough to satisfy the broadband needs of consumers for years to come. That being said, it is possible that telcos view the FTTH cost/performance ratio as too high in the current environment, with fiber's sweet spot still five to 10 years away. Meanwhile, cable operators have room to run. .
Read More, Broadband Industry Survives a Tough 2009, Ready for Next Challenge >