High-Definition Multimedia Interface (HDMI), the de facto connection standard in liquid crystal display TVs and other advanced digital equipment, will be present in nearly 630 million consumer electronic items shipped during 2011, serving as the dominant device interface despite encroaching efforts by a competing standard in China hoping to gain traction, according to IHS iSuppli research.
Worldwide factory shipments of HDMI-enabled devices will rise from 477.7 million units in 2010 to 629.1 million this year, a solid increase of 44 percent, coming on the heels of an even bigger 53 percent expansion in 2009. Growth rates for the next three years will slow somewhat but remain between 20 and 35 percent, with HDMI firmly ensconced in approximately 1.3 billion devices by 2014.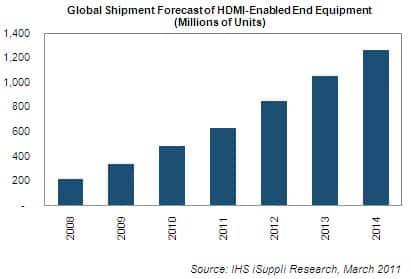 First appearing on the market in late 2002, HDMI is now in a wide range of devices, including digital TVs, set-top boxes, Blu-ray players and game consoles. HDMI penetration into the worldwide TV market during 2010 was more than 75 percent and will exceed 90 percent by late 2012, IHS iSuppli research shows.
Growth of HDMI in these areas will be buoyed by a number of factors, such as the movement of more content to the digital format, an ever-rising number of displays and audio/video equipment supporting digitally coded content, and the continuing advancement of Full HD TV models with 1080p resolution.
HDMI also has found success outside of the traditional consumer markets, appearing in PCs, monitors and mobile handsets in recent years. In fact, these devices will make up 51 percent of total HDMI-equipped product shipments by 2014, IHS expects, reversing the majority share of HDMI in the traditional consumer electronics segment.
DiiVA Interface from China Enters the Fray
Despite clear success, HDMI faces a China-based insurgency making a bid to supplant the high-definition interface in the consumer electronics market. Along with Sony Corp.—an original founder and supporter of the HDMI interface—and Samsung Electronics Co., several Chinese TV manufacturers have banded together in a consortium to develop the Digital Interactive Interface for Video and Audio (DiiVA).
A robust alternative that would provide equivalent or even expanded high-definition capability while avoiding HDMI license costs, DiiVA remains on the horizon as a potential competitor to HDMI from 2011 onward, within China and potentially other Asian domestic markets.
While still relatively early in the product launch phase, DiiVA remains a technology to watch closely for a number of reasons, IHS believes. The Chinese market has shown a demonstrable propensity to gravitate to its own technical standards, and the DiiVA interface is likely to receive a boost from foreign brands looking to grow their share within the China market.
And though the support enjoyed by HDMI among devices in general is impossible to ignore, the possibility that a China government agency mandates the use of DiiVA—even if only to promote regional interests in the technology sector—could spell trouble for HDMI in the years to come within the rapidly expanding China consumer market.
DisplayPort Interface to Act in Complementary Role with HDMI
In the computing equipment markets, an interface known as DisplayPort also is shaping up as a complementary interface to HDMI.
While there are numerous overlaps between HDMI and DisplayPort in the potential applications and capabilities where they can be used, HDMI is a video-centric interface for most consumer electronic devices, while DisplayPort is intended as a PC graphics output port, with an array of extensible and bi-directional interface features.
Gaining momentum last year through its adoption in all Apple Inc. computers, DisplayPort is proving to be the long-awaited replacement in PCs, laptops, netbooks and monitors for the decades-old Video Graphics Array (VGA) standard. All three major vendors of central and graphics processing units—Intel Corp., AMD Inc. and nVidia—have moved to integrate DisplayPort into their current products, with the companies signaling a five-year horizon to finally end support for VGA.
Global shipments of DisplayPort-enabled PCs will jump from 20.1 million units in 2010 to 54.1 million this year, on their way to a projected 341.2 million units by 2014, IHS iSuppli research shows. 
Read More > High Defi nition Everywhere: DisplayPort and HDMI Reap Benefi ts of HD Expansion