OnStar, the automotive telematics communications system now installed in all new General Motors vehicles, is set to grow steadily during the next few years as renewal rates for the service push total subscribers to 7.9 million by the end of 2017, up from 5.1 million in 2010, according to new research from IHS iSuppli.
OnStar's rise will mirror sales growth for GM as a whole. OnStar sales will expand to 3.2 million systems sold by 2017, up from 2.1 million in 2010. Renewal rates for the service—which is offered one year for free on new GM vehicles—will climb into the 60 percent range in 2011 and remain there for the next few years, IHS iSuppli research indicates.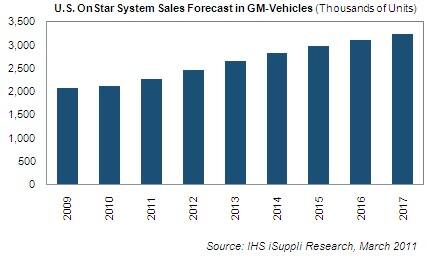 The OnStar services portfolio includes 15 separate functions, ranging from automatic collision notification to stolen vehicle assistance, to on-board navigation, to remote door unlock, to mobile phone remote control, to destination download from Google/Mapquest. Remote software upgrade of electronic control units (ECUs) will be introduced by OnStar in the coming years., IHS believes.
Best Buy Bonus
While the subscribers and system growth forecast mentioned previously account for GM-related vehicles, the possibility for further expansion of OnStar is significant given the recent agreement made with Best Buy to sell and install the service in non-GM vehicles.
As a partner in the program, Best Buy not only will sell the $299 OnStar module to anyone interested, it also will take part in installing and activating the system for users. After selling the boxed-OnStar solution from end caps, Best Buy will glue it to the windshield, connect it to the 12-volt electrical line—which most modern vehicles already have—and press the OnStar blue button to begin activation. OnStar says that its system should be compatible with 99 percent of the top-selling non-GM vehicles made during the last decade, opening up a huge potential for more sales of the service.  
The one thing that remains unclear is if Best Buy will provide lifetime warranties on all its installations and how that will mesh with OnStar's support.
Bluetooth Installed
As a result of increased competition in the North American market from Ford's Sync, GM has finally added Bluetooth to the OnStar systems. While OnStar now has a higher installation rate of Bluetooth systems, compared to that of Ford and several other OEMs, Ford continues to have a more advanced Bluetooth technology.
IHS believes that many customers prefer to use a cell phone-based telematics service because the contract normally has a lower per-minute rate than one that comes equipped in the OEM-supplied embedded phone. As a result, GM is projecting it will sell 2 million-plus Bluetooth systems with OnStar in 2010, as well as more Bluetooth units than will Sync.
Read More > Telematics Connects Itself to Automotive Industry