Shipments of complementary metal–oxide–semiconductor (CMOS) image sensors for digital still cameras (DSCs) are set for rapid growth over the next three years, allowing them to exceed those of charge-coupled devices (CCD) for the fi rst time ever in 2013, according to new IHS iSuppli research.
CMOS image sensor shipments for DSCs in 2013 will reach 71.1 million units, up from 30.7 million in 2010. Meanwhile, CCD shipments will decline to 66.9 in 2013, down from 94.1 million in 2010.
By 2014, more than 85 million DSC CMOS units will be shipping, compared to 51 million for CCD.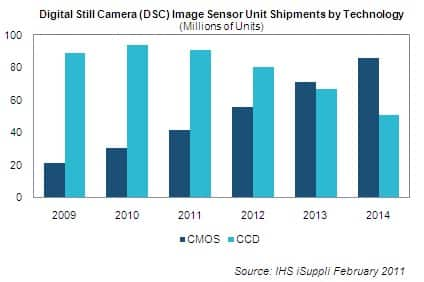 After many years of using CCD technology, original equipment manufacturers (OEM) like Sony, Canon, Kodak, Casio and Samsung now are turning to CMOS, which has narrowed the image quality gap with CCDs to a great degree. This has allowed DSC makers to avail of the advantages provided by CMOS sensors, including lower power consumption and reduced cost.
The lower power consumption of CMOS sensors yields longer battery life. Meanwhile, CMOS sensors are cheaper to produce than CCDs, cutting the cost for manufacturing DSCs.
Other advantages of CMOS sensors include their support for multiple channels of sensor data to be read out simultaneously at high speeds, improving the performance of DSCs. CMOS sensors also allow for the possible inclusion of on-ship peripheral circuits, increasing the integration of electronics and reducing the size of DSCs.
Finally, CMOS sensors offer backside illumination technology, enabling better quality imaging in low and normal lighting conditions. Backside illumination is especially of interest to camera OEMs that are shifting from CCD technology to CMOS.
Some lingering issues remain, however, involving the switch to CMOS technology. In comparison to CCDs, CMOS image sensors generate more electrical noise, which can result in poor image quality with irregular pixels. CMOS image sensors also create random noise that appears in different pixels at different times, caused by flickering light.
Return to Growth
The year 2009 was a tough time for DSCs, as it was for most consumer electronics products. However, IHS believes the worst has passed and that the market is set to increase in 2011 and beyond.
Growth will be fueled by lower price points that stimulate demand and drive unit sales. Furthermore, a number of new areas within the DSC market will continue to expand, such as hybrid cameras—which mix both video and still images. Other growth areas include Wi-Fi digital and 3-D cameras. Such factors, in combination with the positive outlook for digital single-lens reflex (DSLR) cameras, whose prices continue to drop, will increase demand and desire among consumers to use DSCs over their mobile handset cameras in the future.
Read More > Image Sensors Continue to Experience Demand for 2011 and Beyond