Global photovoltaic (PV) solar installations in 2011 will rise by a sunny 39.3 percent on the strength of vigorous Italian and U.S. demand, with growth during the year limited only by reductions in government incentives in certain European countries, according to iSuppli, now part of IHS Inc. (NYSE: IHS).
Though the PV market in 2011 will not achieve the blistering 120.5 percent increase it saw last year, worldwide installations of renewable solar energy systems this year still will increase at a healthy rate, reaching 22.2 gigawatts (GW), up from 16.0GW in 2010.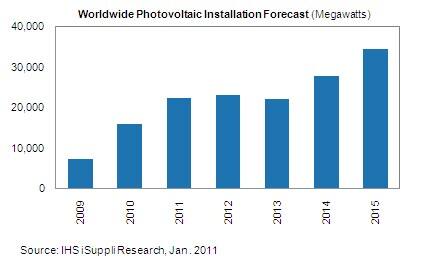 While Germany will continue to be the world's largest PV market in 2011 with an estimated 9.4GW worth of installations, second-ranked Italy will achieve much faster growth. In an accelerating market that promises one of the world's highest internal rate of return, solar installations in Italy this year will double—growing a full 100 percent to 3.9GW, up from 1.95GW in 2011, compared to Germany's 19.8 percent expansion.
Coming in third globally after Germany and Italy will be the United States, projected to see 2.1GW worth of PV installations this year. However, with federal incentives less likely to be renewed in the near term following a shift to a more conservative U.S. Congress, power now will reside more with individual states to carry out initiatives. Just the same, the recent defeat in California of a statewide ballot to repeal renewable energy targets will ensure that solar support continues in the United States' largest PV market.
In addition to Germany, Italy and the United States,  iSuppli tracks in detail all relevant photovoltaic markets, namely Belgium, Bulgaria, China, the Czech Republic, France, Greece, Japan, South Korea, Ontario in Canada, Spain and the United Kingdom. Emerging markets in the rest of the world are analyzed as well.
Partly Cloudy Forecast for Solar
Despite the overall positive outlook this year for the PV space, a number of uncertainties could spell trouble ahead, especially in Europe.  
For one, the German market might see a further reduction in feed-in tariffs (FIT) in addition to the scheduled annual cut intended to bolster the solar industry. Should the country's FIT be cut by mid-year, PV installations in 2011 might end up at the 7GW level, not the more optimistic forecast of 9.4GW without the FIT rollback.
Furthermore, the PV markets in Spain, France and the Czech Republic are not expected to expand in 2011, given the serious measures under way to trim the solar investor business in those countries.
The Spanish government, for instance, will decrease funding of existing solar power parks retroactively by approximately 30 percent, while France will suspend funding for larger solar systems until a new tariff scheme is finalized at the end of the first quarter.
The PV market will suffer its biggest blow, however, in the Czech Republic, with solar installations there expected to plunge by 73.7 percent, down from 1.3GW in 2010 to a mere 350 megawatts this year. With a drastic market correction to occur in 2011 due to the imposition of a retroactive tax on solar energy revenue and the stopping of government support for new ground projects, many PV installations are expected to be canceled. More than 50 percent of large-scale installations are likely to go bankrupt, according to the head of the Czech PV association, and the country could end up losing its credit standing and scaring away investors.
Read More >  PV in 2011 Prepares for 22GW