Short supplies of Active Matrix Organic Light Emitting Diodes (AMOLED) are slowing the display technology's bid to challenge the dominance of the incumbent AMLCD technology in the smart phone market, according to iSuppli Corp.
Rising rapidly, shipments of small-sized AMOLEDs used in mobile phones and other applications are projected to reach 184.5 million units by 2014, up from 20.4 million units in 2009, for a Compound Annual Growth Rate (CAGR) of 55.1 percent during the period. While such growth is impressive, the AMOLED figures pale next to small-sized AMLCD shipments, forecasted to rise to 1.75 billion units by 2014 from 1.3 billion in 2009.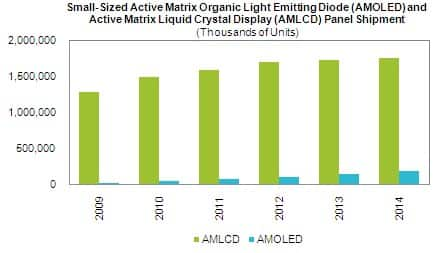 Sole-Supplier Issues
At present, Samsung Mobile Displays (SMD) and LG Displays represent the only sources for AMOLED panels. SMD is investing $2.2 billion in its AMOLED facility by 2012 to ramp up production, while shipments now are limited at LG as the company has yet to increase production. In addition to the South Korean players, Taiwanese-based AU Optronics Corp. and TPO Display Corp. are planning to introduce AMOLED products at the end of 2010 or early 2011, but both companies are not shipping any significant quantities at this time.
Given the small pool of available AMOLED suppliers, manufacturers of volume applications such as mobile handsets understandably are concerned about the potential for disruptions in production if a part or component becomes delayed or ceases entirely. This is especially true with a company like Samsung, which has special relationships with its own internal brand, giving it preferential treatment over outside customers.
If the demand for AMOLEDs is so strong, why aren't other manufacturers building production facilities and starting production more rapidly?
First, AMOLED is a newer technology compared to the well-established AMLCD, whose fabs are mature and mostly depreciated in full. This currently gives AMLCD fixed-cost advantages compared to AMOLED fabs that have been around only for the last few years. Second, newer technology means that establishing manufacturing processes could be prone to yield losses, leading to slower production ramp-ups. Third, with AMLCD improving its performance and simultaneously exerting pressure on display prices, competing with the moving performance and price target of LCDs not only is challenging for a new technology like AMOLED but also delays return on large investments.
Korean Initiatives in Play
With Samsung and LG spearheading the development of AMOLED, what the two companies do will determine whether the technology moves beyond its current niche status into a position in which the technology becomes a viable competitor for mobile handset displays.
To increase supply, Samsung is heavily investing in AMOLED and plans to have an additional Gen 5.5 fab up and running at the end of 2011. For its part, LG is starting a new Gen 4.5 fab that will manufacture both LTPS and AMOLED panels.
Overall, handset makers are pushing to make displays available in mass-volume production from AMOLED suppliers. In a market that is becoming highly competitive with a perceptible emphasis on distinctive features and improved performance, AMOLED may offer manufacturers crucial and much needed choices with which they can achieve product differentiation. 
Read More, Seasonal Slowdown Impacts Mobile Display Shipments in Q4 2009 >
iSuppli's market intelligence helps technology companies achieve market leadership. Catch the latest Electronic Display Industry Headlines from all across the world straight from our immensely experienced analysts. The Display Materials & Systems portal at iSuppli provides deeper insights into desktop and specialty monitors, televisions (plasma, LCD), digital signage and professional displays, projection displays, liquid crystal displays (global supply and demand, price tracking, supply chain), OLED, and emerging display technologies, such as touch screen, 3D, and IE TV. iSuppli provides comprehensive Electronic Display Market Research that is rigorous, reliable & relevant. To know more, send us an e-mail on [email protected] or contact us on +1.310.524.4007.