Slower advancements in semiconductor manufacturing technology this year will cause a deceleration in price reductions for dynamic random access memory (DRAM), according to the IHS iSuppli Memory and Storage Service from information and analysis provider IHS (NYSE: IHS).
Following a drop of 14.2 percent in the first quarter of 2011, the global average decline in pricing for DRAM slowed to 12 percent in the second quarter. The rate of decrease is expected to decline to 9 percent in the third quarter and then dwindle to just 4 percent in the fourth quarter. The rate of decrease will further slow to just 1 percent in the first quarter of 2012, and then remain in the 3 to 4 percent range during the rest of 2012.
The slowdown in price reductions parallels a deceleration in the rate of migration to more advanced lithography used for manufacturing DRAM. To a large degree, DRAM pricing trends are driven by the progression of manufacturing technology to smaller geometiores.
Average lithography geometry for global DRAM manufacturing shrunk by a near-term high of 5.6 percent in the first quarter. However, that rate of shrinkage will decrease to 5.2 percent in the second quarter, to 4.8 percent in the third quarter and to 3.7 percent in the fourth quarter. After declining to 2.9 percent in the first quarter of 2012, lithography will shrink in a range of 3.8 percent to 4 percent for the remainder of the year.
"In the wake of forcefully pursuing lithography reductions in late 2010 and early 2011, the DRAM industry is expected to employ a less aggressive approach to lithography migration throughout the rest of the year," said Dee Nguyen, memory analyst at IHS. "DRAM capital expenditures are expected decline by 30 percent in 2011 compared to 2010. As a result, the rate of DRAM cost reductions also will slow during the remainder of 2011 and 2012. However, IHS expects that DRAM cost reductions will speed up again in 2013 as lithography shrinks return, due to increased capital spending. Spending will increase by 23 percent in 2012, which may spur steeper price reductions in 2013.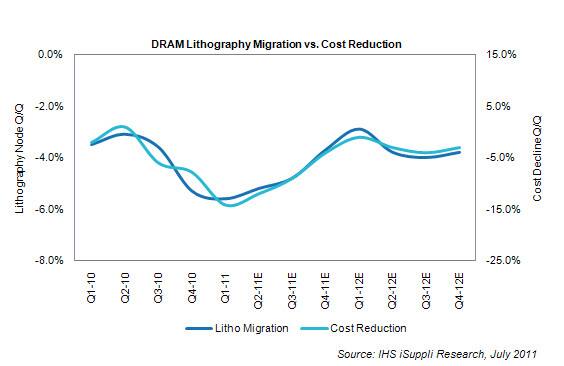 An industry in transition
The DRAM industry is undergoing several transitions, including the strategic shift away from commodity DRAM among many suppliers, new manufacturing and foundry alliances, as well as by the continued migration to 40-nanometer (nm) technology and beyond. All these factors will have an impact on supply-and-demand dynamics, which will affect profitability and supplier earnings, IHS believes.
Surprisingly, DRAM suppliers remained profitable in the first quarter, boosted by the substantial margin built up during the previous up cycle for the market, which began in the second quarter of 2009 and lasted until the end of the rally a year later. And despite the downward streak in the average street prices of DRAM, the current cycle is no exception to historical patterns that have seen the ebb and flow of demand cycles, accompanied by fluctuations in chip prices and DRAM company earnings.
In particular, the cost declines projected for the industry are expected to come from technology migration, with DRAM chips increasingly made with new lithography equipment and technology. From the fourth quarter of 2010 to the first quarter this year, the main drivers of lithography change were Inotera, whose average lithography mode crossed over to 50 nm, and Rexchip, which went to 40 nm.
And while DRAM cost declines also can be driven by factors other than lithography migration, those extra considerations can be safely ruled out for the time being, IHS research shows. One factor, capacity growth in order to maximize efficiencies of scale, will be limited as companies continue to exercise caution on expansion-specific capital expenditure. Another factor, operational efficiencies, is not expected to make much of a dent in further cost savings, given that companies remain relatively lean from the previous as well as current downturns.
As the transition to 4x-nanometer fully completes next year, cost declines will level off even more, IHS estimates show. Cost reductions relative to lithography migration will reach 6.5 percent per quarter during the remainder of 2011, and then narrow to 3.3 percent in 2012. With lithography migrations becoming less spirited in the coming quarters, cost declines will mirror the pattern—strong for now, and then fading in 2012.
Read More > DRAM Cost Reductions Running Strong for Now, Fading in 2012
---