Leveraging its low-cost thin-film process, U.S.-based First Solar Inc. is set to surpass its crystalline competitors to become the world's largest producer of Photovoltaic (PV) cells in 2009, according to iSuppli Corp.
First Solar in 2009 is set to produce 1,100 Megawatts (MW) worth of solar cells, more than double the 503MW it made in 2008. This will give First Solar nearly twice as much production of total solar cells as its nearest competitor, Suntech Power Holdings Co. Ltd. As iSuppli noted in an Aug. 10 release, SunTech in 2009 is set to become the leader of the crystalline segment, which is a subset of the total solar cell market.
"First Solar is leveraging its cost leadership to achieve market-share leadership in the global PV solar cell business," said Dr. Henning Wicht, senior director and principal analyst for iSuppli.
"The company's proprietary thin-film process is giving it an edge over the competition amid challenging solar market conditions."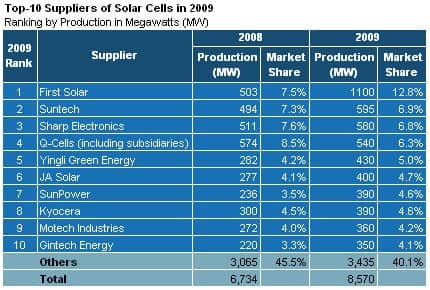 "First Solar sells its products at very competitive prices, always undercutting crystalline cells," Wicht said. "With its capability to produce cells at a cost of 89 cents per watt in the second quarter, First Solar is generating stable operating margins, while its competitors are struggling to stay profitable. Despite global oversupply of PV modules, First Solar is continuing to expand and is able to sell nearly all of its finished goods."

Beyond low-cost production, First Solar's success is also being driven by its well-established sales channels in Europe and its own installations for U.S. utility projects. First Solar will be the only company among the Top-4 solar cell suppliers able to gain market share in 2009, iSuppli predicts. The company's portion of global solar cell MW production will rise to 12.8 percent in 2009, up from 7.5 percent in 2008. No.-2 SunTech, No.-3 Sharp and No.-4 Q-Cells all will suffer contractions in total solar cell market share.

First Solar also holds the lowest levels of inventory in the global solar cell industry. Because of this, iSuppli expects the company to actually sell all of its production in 2009, rather than stockpiling it. With inventories throughout the PV supply chain soaring, this give First Solar a significant competitive advantage.

With 3.92GW worth of solar capacity set to be installed in 2009, First Solar's cells will account for as much as 28 percent of the total, according to iSuppli. The company's share will be even higher in ground installations and large rooftops, where its products find the strongest acceptance. Its share will be lower in other types of installations, such as small rooftops.

Thin-film represents a new generation of solar cell technology that is gaining acceptance worldwide. Traditional solar cells have employed crystalline material, which is relatively efficient at converting light into electricity, but also more expensive relative to thin-film. In addition to SunTech Crystalline solar-cell suppliers include Q-Cells, Sharp, Yingli, and JA Solar.

In contrast, thin-film employs slim layers of materials including cadmium, tellurium, copper, amorphous, and microcrystalline silicon.

Because of its cost advantage, thin film will grow to account for 34.5 percent of worldwide solar production in terms of MW in 2013, up from 14.2 percent in 2008. Despite the strong rise of thin-films, iSuppli doesn't believe that the technology will surpass crystalline in the foreseeable future.

"The rise of thin-film is due to the success of First Solar and its unique thin film process," Wicht said. "There's no new First Solar yet on the horizon. With only one supplier, thin film's progress will be limited."

First Solar employs a patented process using cadmium telluride (CdTe).

Read More About Cell and Module Production, Inventory Levels Threaten Suppliers >
---