With the closure of its Flip camcorder group, Cisco Systems Inc. has shrewdly exited the slow-growing market for single-purpose consumer electronics devices, but the company may have missed out on an opportunity to cash in the division's value, according to IHS iSuppli research.
Cisco in March 2009 placed a $590 million dollar bet on the consumer's interest in shooting high-definition video with the purchase of Pure Digital, the company that produced the Flip Video camera. Just two years later, in April 2011, Cisco announced it was closing the division as part of an overall restructuring of the company's consumer products business.
Was Cisco's assessment of consumer attitudes regarding high-definition video recording wrong? The answer is yes and no, IHS iSuppli research indicates.
"Consumers very much want to shoot and share video, evidenced by the billions of YouTube videos viewed," said Jordan Selburn, lead analyst, consumer electronics, for IHS. "However, consumers are becoming less interested in buying devices focused uniquely on taking such videos when this capability is increasingly available in other electronics systems already in the consumer's pocket, purse, backpack or briefcase—such as a smart phone or personal media player (PMP). Because of this, over the next few years, there will be relatively little growth in the dedicated camcorder market, such as the Flip."
After rising by 6.1 percent in 2010, global camcorder shipment growth will decelerate to 4.1 percent in 2011 and then to 1.7 percent in 2012 and 2.2 percent in 2013. While shipment growth will rebound somewhat in 2014 and 2015, the market will expand at a relatively anemic compound annual growth rate (CAGR) of 4.4 percent from 2010 to 2015. And even this growth primarily will be driven by sales of 3-D camcorders, rather than 2-D models like the Flip.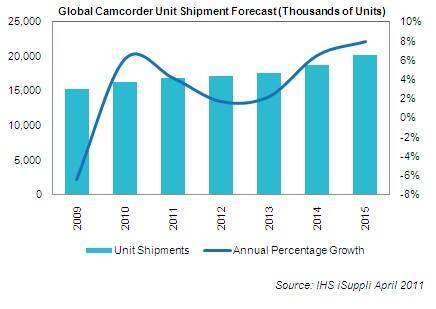 The slowdown of the camcorder segment reflects wider challenges for all consumer electronics products that are focused on a single task.
"The single-task device is becoming an endangered species in the consumer electronics market," Selburn said. "For example, the PMP is under increasing pressure from smart phones—and the e-Book reader market will encounter more competition from media tablets. The trend toward multi-tasking consumer electronics devices is one of the dominant forces shaping the industry, and Flip Video appears to be an early casualty."
Another factor driving the decision to close Flip concerns Cisco's overall strategic direction.
"Cisco has been, and remains, a networking company at heart—and in the wallet. And this move appears to be a way to strengthen that focus," Selburn said. "Flip never really fit into any of Cisco's other product lines, including consumer products such as the Linksys home networking and the former-Scientific Atlanta's set-top box products."
Cisco's set-top box group is not completely consumer facing, as the products are sold to cable and Internet protocol television (IPTV) operators rather than directly to the customer. Linksys, although a retail product, is quite closely aligned with Cisco's networking focus. These factors made Flip the odd man out in the company's product offerings.
While the Flip closure made sense from these business and market perspectives, Cisco may have left some money on the table.
"The most surprising aspect of Cisco's decision was the move to simply close Flip, rather than sell it or spin it off as an independent company to get at least some return from their investment," Selburn said. "It would not be surprising at all to see Flip resurrected in some fashion, however, with the assets perhaps reacquired by the founders or bought by another company at a steep discount. Despite Cisco's actions and the overall market trend away from dedicated single-function devices like the Flip, the market has not gone away entirely and the value of a good product still remains strong."
Learn More > Flipping Out - Teardown of the Flip minoHD 
---