Vizio Inc. became the leading LCD-TV brand in the United States in 2009, while Samsung Electronics Co. Ltd. took the top spot in overall flat-panel television market for the year, according to iSuppli Corp.
U.S.-based Vizio's LCD-TV shipments nearly doubled in 2009, rising to 5.9 million units, up 92.1 percent from 3.1 million in 2008. This vastly exceeded the 29 percent growth of the overall U.S. LCD-TV market for the year and represented the strongest growth among the Top-6 brands. Company market share rose to 18.7 percent for the year, up from 12.6 percent in 2008.
This gave U.S.-based Vizio the No.-1 rank in 2009, up from third place in 2008.
"Vizio continues to benefit from its strong brand recognition among U.S. consumers," said Riddhi Patel, director, television systems and retail services for iSuppli. "The company already has established itself as the price leader in LCD-TVs. The company played to this strength in 2009 by offering attractive promotions to consumers. Furthermore, Vizio moved to make its LCD-TV products more competitive with premium brands, adding higher-end features such as LED backlights and Internet connectivity."
Vizio led the U.S. LCD-TV market during every quarter of 2009, except for the third, when Samsung took the top spot due to the popularity of its LED-backlit sets.
Samsung Tops in Flat Panel TV
Looking at the overall U.S. flat-panel television market, consisting of both LCD-TVs and plasma sets, South Korea's Samsung retained leadership in 2009.
Samsung's U.S. flat-panel television shipments rose to 6.6 million units in 2009, up 22.6 percent from 5.4 million units in 2008. The company ended 2009 with a market share of 18.4 percent, virtually unchanged from 18.5 percent in 2008.
"Samsung maintained its overall leadership in the U.S. flat panel television market due to the continued success of the LED-backlit LCD TVs and its strong price competitiveness in both value and premium TV segments," Patel said.
Toshiba and Sony Star in 2009
The second strongest performance among the Top-6 LCD-TV brands in the United States in 2009 was posted by Japan's Toshiba Corp., which achieved a stunning 81.7 percent increase in unit shipments for the year. The company ended 2009 with a 7.6 percent share of unit shipments, up from 4.2 percent in 2008, giving it a fourth-place ranking for the year.
"Toshiba's rise was due to its increased shipments of LCD TVs at aggressive price points, which are much closer to the value brands," Patel said.
Sony Corp. of Japan was the best performer in the U.S. LCD TV market in the fourth quarter, with its share rising to 13.2 percent, up from 7.7 percent in the third quarter.
"Sony's strong fourth-quarter performance mainly was driven by its aggressive pricing and promotions for the Christmas season," Patel said. "Consumers were attracted by Sony's bundled deals combining LCD TVs with PlayStation 3 video game consoles and Blu-ray players."
Sony ranked third in the U.S. LCD-TV market both in the fourth quarter and for the entire year of 2009.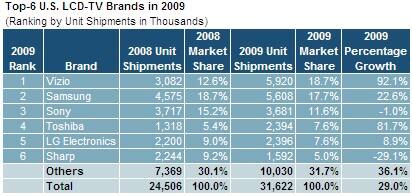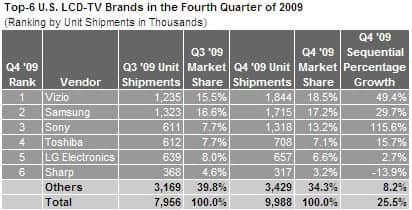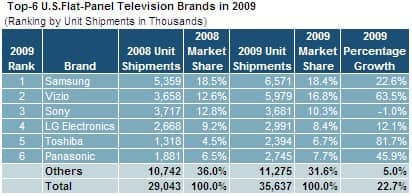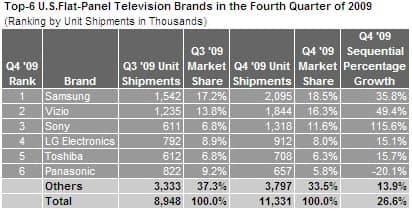 ---