Apple Inc.'s difficulties in satisfying the massive demand for the iPhone 4 are raising questions about the company's management of the supply chain and prompting frustrated customers to consider competitors' smart phones, according to iSuppli Corp.
iSuppli estimates that Apple in 2010 will ship 21.7 million iPhone 4s, representing 51 percent of the 42.6 million iPhones Apple is expected to ship during the year.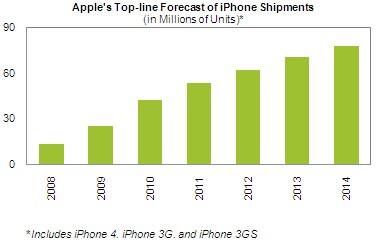 Releasing a new phone every June since 2007, when the first iPhone launched on the market, Apple has risen very quickly from virtually zero presence to become the No. 3 smart phone player, ranking just below Nokia Corp. and Research In Motion Ltd. (RIM)—both of which have enjoyed much longer runs in the wireless field. Nokia, responding to the threat of the iPhone 4, recently reorganized its business units. Meanwhile RIM, its share of the market also under assault, is working on a highly anticipated update of its operating system.
The huge early demand for the iPhone 4, however, has come at some cost to Apple. Logging 600,000 units on the first day that the product first became available for pre-ordering, the Apple Store and partner carrier AT&T Inc. very quickly became overwhelmed, prompting both to stop taking orders just one day after the pre-order was available. In addition to the order freeze, consumers reacted with dismay to Apple's repeated pushback of its online pre-order shipment date—first from June 24 to July 2—and then further back to July 14.
"While the channel supply issue might not impact total iPhone sales for the entire year, what is happening now certainly has done some damage to the Apple brand," said Tina Teng, senior analyst for wireless communications at iSuppli. "Consumers, questioning Apple's supply chain management capability, have started looking for alternative devices. In particular, consumers are not satisfied with Apple's response to the antenna issue causing poor reception and dropped calls."
Furthermore, Teng said that for manufacturers, the object lesson to be derived from the iPhone 4 unveiling is that any product launches involving a new technology or different component could raise a hornet's nest of issues that throws channel supply into serious jeopardy.
"The lesson here is manufacturers beware," Teng said.
Options for the Aggravated Consumer
Despite the feverish coverage engendered by the iPhone 4, Apple's various competitors continue to push for awareness of what they advertise as viable alternatives, leveraging the many new features of their offerings.
"While North American consumers are grappling with the iPhone 4 shortage, consumers— especially those in other regions—know they have other smart phone options," Teng said.
In the case of Nokia, the Finnish company is placing its bets on the state-of-the-art N8, which offers real video conferencing over a 3G network, HDMI connection for HD video output, an exchangeable battery, a side-loaded MicroSD memory card up to 32GB and more importantly, support for a Lite version of Adobe Flash—an obvious and intentional omission left out on all iPhones, including the current iPhone 4.
A second competitor can be found in the 4G EVO, from Taiwanese manufacturer HTC Corp. Billed as the first 4G handset in North America and carried by AT&T rival network Sprint Nextel Corp., the 4G EVO is equipped with a Wi-Fi router capable of supporting eight devices when there is no voice traffic—a feature lacking in the iPhone 4.
A third competitor, Samsung Electronics Corp. Ltd., has made bold statements about plans to double its smart phone market share this year in view of the company's new line of Galaxy S phones, which carry the increasingly popular Android operating system from Google Inc.  
Admittedly, the ambitious plans of Apple's competitors—and even Apple's own stumbles in delivering its much heralded product—probably pose no deterrent to hordes of devoted Apple fans aching to get their hands on the next available iPhone 4. These users are determined to sit out the wait, however long it takes.
But while Apple has the enviable benefit of playing to a captive audience, the moves from a battle-weary—yet determined—competition to step up its game are all too real and could pose a real risk to Apple.
"With threats coming from every corner of the market," Teng surmised, "can Apple afford another slip in its supply chain management?"
Read More, Mobile Handset Industry Foresees End of the Recession >
---