Defying a growing chorus of negativity regarding the market, global PC shipments continued to expand in the third quarter, rising by 7 percent sequentially and by 10.3 percent compared to a year earlier, according to the market research firm iSuppli Corp.
Worldwide PC shipments in the third quarter amounted to 88.1 million units, a near-bull's eye following iSuppli's forecast of 88.3 million. This compares to shipments of 82.6 million in the second quarter of 2010 and 79.9 million in the third quarter of 2009.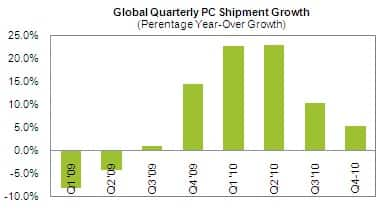 "From warnings issued by Taiwanese motherboard makers, to word of declining exports from China, to mounting concerns over consumer spending, there has been a drumbeat of negative news regarding the PC market," said Matthew Wilkins, principal analyst, compute platforms research, for iSuppli. "However, even with consumer confidence shaken by government austerity measures, individuals and businesses continued to purchase PCs in the third quarter, driving up global shipments smartly."
Shipments for all three major types of PCs—desktops, notebooks and entry-level servers—rose on both a sequential and a year-over-year basis in the third quarter.
Desktop PCs generated the strongest sequential growth, with shipments rising by 11 percent compared to the second quarter. This reflects the relatively strong demand in the corporate sector.
In contrast, mobile PC shipments rose at more tepid 4 percent sequential growth rate, and up a more impressive 15 percent from a year earlier. Those rates, however, were down from 41 and 42 percent increases in the second and first quarters, respectively, due to consumer confidence issues.
iSuppli predicts global PC shipments will continue to rise in the fourth quarter, with a mid-single-digit increase over fourth-quarter 2009 shipments.
Read More > Compute Platforms Witness Strong Q2, but H2 Slowdown Expected 
---