iSuppli's market intelligence helps technology companies achieve market leadership. After the macroeconomic events of 2009, mobile market research is more important than ever. The players in the mobile handset segment are challenged. iSuppli provides a clearer picture of the mobile industry, which is changing faster than ever with the advent of smart phones, 4G technology, and changes happening in the Asia Pacific market every day. Contact us on +1.310.524.4007 for more details.
Qualcomm Inc.'s planned acquisition of Atheros Communications Inc. will position the combined companies to take on rival Broadcom Corp. in the burgeoning consumer electronics market for wireless connectivity semiconductors, according to iSuppli, now part of IHS Inc. (NYSE: IHS).
Wireless semiconductor giant Qualcomm today confirmed it will buy Atheros in a deal estimated to be worth about $3.1 billion. Qualcomm is the world's largest supplier of semiconductors for wireless products, accounting for an estimated 22.4 percent of global wireless semiconductor market revenue in the fourth quarter of 2010.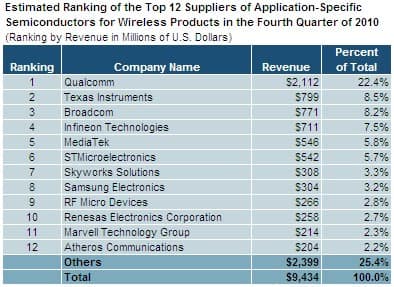 "With Atheros adding only 2.2 percentage points to Qualcomm's portion of the wireless market, this acquisition is clearly not a market share play for Qualcomm. Rather, it's a pure strategic play, designed to bolster its position in the fast-growing wireless connectivity space now dominated by Broadcom," said Francis Sideco, principal analyst, wireless communications for iSuppli.
Atheros' main allure is its global leadership in low-power semiconductor solutions that support the 802.11n high-throughput wireless local area network (WLAN) standard, a type of Wi-Fi technology suitable for the transfer of bandwidth-intensive data such as video.
After several quarters of effort, Atheros has experienced limited success selling its 802.11n semiconductors in the cell phone market. iSuppli's Teardown Analysis service has identified Atheros chips in smart phones such as Samsung's Galaxy 5 and Sony Ericsson's XPERIA X10.  
But the company has enjoyed greater success in non-cell-phone products, with design wins in products including Apple Inc.'s iMac line, Hewlett-Packard Co.'s Pavilion PC family, Acer Inc.'s Aspire PC line, the third-generation Amazon Kindle and Microsoft Corp.'s Zune MP3 player. Furthermore, Atheros has achieved strong design wins in home networking routers, positioning it for success in the connected home segment.
"While Qualcomm already has its own Wi-Fi technology, this deal bolsters its design capabilities and opens up more opportunities in non-handset devices such as tablets and consumer electronics devices, particularly those in the connected home," Sideco said.
Broadcom currently dominates the market for wireless connectivity semiconductors for consumer electronics, the so-called connected home area. This represents a booming segment of the wireless semiconductor business, with shipments of video-oriented consumer electronics devices equipped with high-bandwidth wireless solutions expected to grow to more than 85.2 million units by 2014, up from 606,000 units in 2009.
"Connectivity has arrived on the consumer electronics market in a big way—and no semiconductor supplier can seriously tackle this market without extensive system-on-chip (SOC) design capabilities, including a vast portfolio of intellectual property," said Lee Ratliff, senior analyst, broadband and digital home, for iSuppli. "Broadcom is the gold standard in this area—the king of the SOC solution. With the acquisition of the Atheros portfolio, Qualcomm now is better positioned to offer SOCs that can compete with Broadcom's offerings for a slice of the connected consumer electronics market."
Ratliff noted that Qualcomm is not alone in its efforts to position itself against Broadcom in this critical area. Other semiconductor suppliers eying the connected home market include Marvell Technology Group, Ralink Technology Corp. and Zoran Corp.
Some of the most attractive opportunities for connected home products are televisions and set-top boxes.
The acquisition of Atheros' technology also could help Qualcomm to simultaneously defend against and attack Broadcom in its core business in cell phone semiconductors.
"Broadcom has enjoyed major success with its connectivity solutions in cell phones, most notably the main WLAN slot in the iPhone," Sideco observed. "iSuppli believes it is only a matter of time before an EvDO and/or LTE iPhone will be introduced. It is essential that Qualcomm be part of the baseband picture for those types of phones due to its virtual lock on the EvDO market. Because of this, the company could be trying to expand its footprint by winning this slot from Broadcom."
Meanwhile, the Atheros acquisition will help Qualcomm address the fast-growing market for tablets.
"Only some tablets will have the kind of 3G or 4G connectivity that requires Qualcomm's silicon," Sideco said. "However, all tablets will have the kind of Wi-Fi capabilities that can be supported by Atheros. This acquisition will ensure that Qualcomm has an opportunity to sell its chips into all tablets, whether they are 3G, 4G or Wi-Fi/Bluetooth."
Read More > Wireless Seasonality Back on Track to Close 2010
---